Agent UI & Scripting
Help your agents deliver effective engagement, with Amazon Connect

There are three options for creating agent user interfaces and messaging frameworks with 4connect.
Option 1: use existing interfaces and workflows
If you have an existing Amazon Connect interface already built, you can integrate 4connect functionality to control inbound and outbound initiatives from the same solution.
If needed, our team can help you build a custom all-in-one Amazon Connect solution, using 4connect APIs to facilitate outbound contact.
Option 2: use 4connect CallGuides
For those without an existing Amazon Connect interface, you can use 4connect CallGuides to build custom agent messaging frameworks, creating a calling process that helps each caller be more successful.
CallGuides are a way of keeping agents on-message, without having to rely on clunky word-for-word scripts.
You can build CallGuides with numerous different pages for each possible stage of the call. Agents progress through the CallGuide as the customer makes different choices, allowing them to access the right pre-prepared questions, bullet point guidance, scripts, or visual explainers for each stage of the call.
As a team leader or administrator, you can create beautiful CallGuide interfaces using our drag-n-drop visual editor. CallGuides are easy to build, even if you don't have coding experience.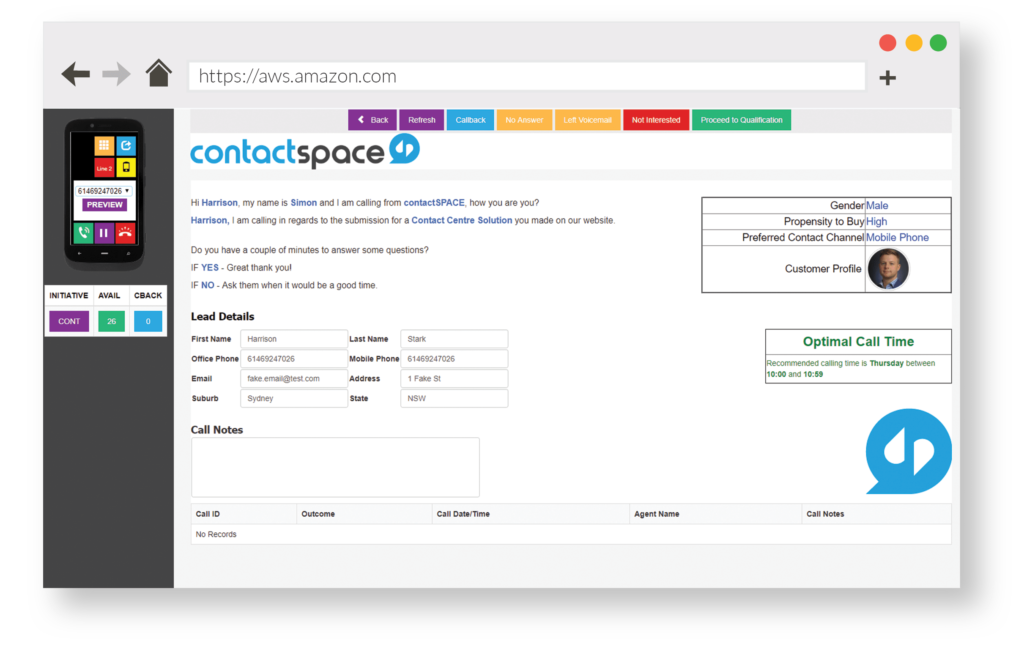 Option 3: use CallGuides with an existing interface
If you're looking for the best of both worlds, it's possible to use 4connect CallGuides in conjunction with an existing Amazon Connect interface.
CallGuides can help you create call disposition and progression buttons, inside your Amazon Connect UI.
Inside the CallGuide portion of your workflows, you may also like to use an iframe to bring in other external applications.
Connect better with your customers