Cornucopia is a leading Australian fundraising agency, which helps to manage donor relations and raise funds for a variety of not-for-profit organisations.
Having used a few different cloud contact solutions over the years, Cornucopia were looking to migrate to Amazon Connect, for the flexibility and scalability it offers.
Making efficient, effective outbound contact
While Cornucopia handle inbound calls using Amazon Connect, they also make a significant volume of outbound contact.
Because of the outbound calls we make, scripting and data management is essential to us. If we were to use Amazon Connect, we knew that we either had to use a plugin, or build this functionality ourselves.

We found that 4connect was our best option to get up and running quickly.
Bridging the outbound functionality gap
Using 4connect, Cornucopia now has access to the outbound functionality they need, inside Amazon Connect.
With 4connect auto dialers, data management functionality, and CallGuide agent workflows, Cornucopia is able to make efficient, effective outbound contact.
We really like 4connect CallGuides – they allow us to create more of a call flow, instead of just a script. The ability to send the agent on a particular journey based on how the call progresses is very helpful for us.
Making quality outbound contact
Using 4connect, Cornucopia is able to create targeted, sophisticated outbound dialing strategies, helping them to achieve better results for their clients.
Our focus is on quality, and representing charities' brands. While we have the ability to use predictive calling with 4connect, the solution allows us to make much more targeted contact, using the progressive dialer.
Close customer support
During the deployment process, the 4connect customer success team was on hand to help with the transition.
And once up and running, 4connect provided continual support, allowing Cornucopia to optimize their outbound contact strategies.
4connect have always been on-hand to help, both during deployment and now that we're up and running. The customer success team has been very supportive.
Achieving a faster deployment
4connect helped Cornucopia to avoid the need to custom-develop outbound dialing functionality – a task which would have proved extremely time consuming, and very complex.
With 4connect, Cornucopia was able to begin making outbound contact in Amazon Connect much more quickly than if a solution was custom-developed.
4connect helped us to significantly reduce the cost and complexity involved in reaching the point where we could make outbound contact using Amazon Connect.
Cost savings
Once live with Amazon Connect and 4connect, Cornucopia were able to immediately realize a 9% decrease in costs per record.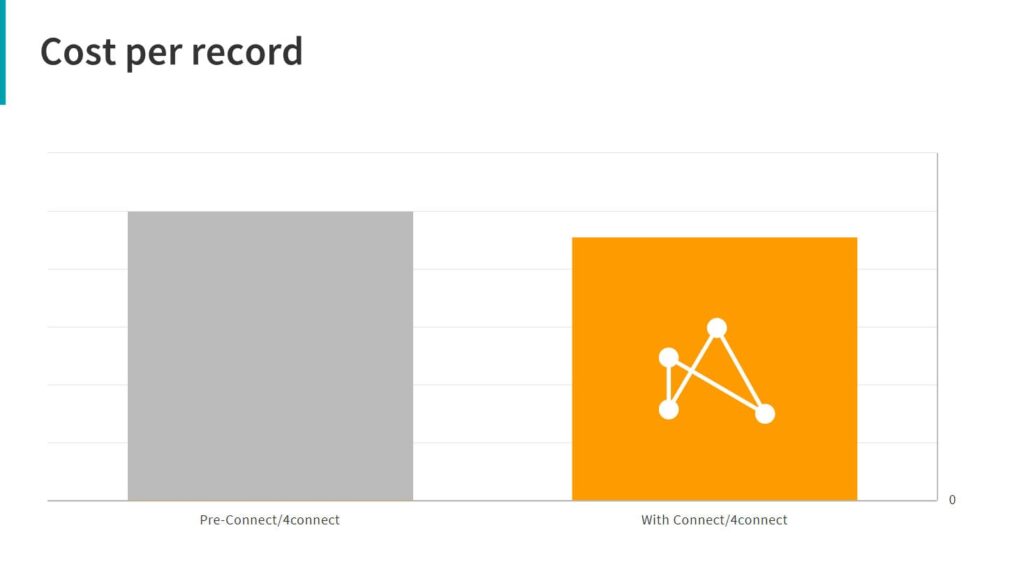 Using Amazon Connect and 4connect, Cornucopia is able to continue delivering fantastic results for clients, while significantly reducing operating costs. We're Ready
If you have a challenge for the 4connect team we'd love to hear from you — so let's continue the conversation.
Call us on +1 818 748 8763 or email info@4connect.io